Visit the following links for all things animals!

"A trained dog is a happy dog!" That's Cathy Stephens' motto! For all of your dog-training needs, contact this certified trainer and avid animal welfare advocate. Adopt a dog through HOPE, and get 50% off of the costs! Thanks, Cathy!

---
The Crescent City is blessed to have ARNO hard at work 365 days a year to rescue, care for, and place homeless animals in loving homes. Please consider donating to this wonderful cause and help support ARNO's efforts to make euthanasia a thing of the past.
---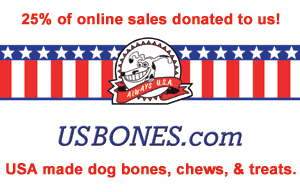 Visit US Bones for your next pet supply purchase, and 25% of your total goes to HOPE for more rescues! Thanks for your support!
---
Louisiana owes a great deal of gratitude to Pasado's Safe Haven after their incredible response to the Hurricane Katrina disaster. The Washington-based group rescued over 1,200 cats and dogs from water- and wind-ravaged New Orleans and its surrounding areas, and volunteers dedicated countless hours to the care and rehabilitation of these very fortunate animals. HOPE for Animals thanks and commends these wonderful individuals for their amazing efforts and encourages everyone to visit their official website and consider donating to keep such an essential organization alive.
---
If you're in the market for riding lessons or looking to purchase your own horse, check out Black Star Ranch in Houma. Black Star Ranch also offers horse boarding and is a great place for a field trip. HOPE appreciates Black Star Ranch's support of its mission.

---
There is no easier way to help animals every single day! Visit the Animal Rescue Site and click on their "Fund Food for Animals" button--each click earns a sheltered animal .6 bowls of food, and there is no limit to the amount of times you can help! Any purchase you make at their online store also helps donate food to needy shelters! Surf on over today!
---
SPAY/USA is a wonderful organization which helps to find affordable and discount spaying and neutering services for people nationwide. Counselors are available to refer anyone in need to his nearest, most affordable neutering and spaying clinic.
---

Find your pet supplies online at Petco! HOPE thanks Petco for donating supplies and prizes to our organization.


---
Visit the Louisiana Boxer Rescue organization, which specializes in "refurbished Boxers". Find Boxers to adopt and sponsor at this great website!